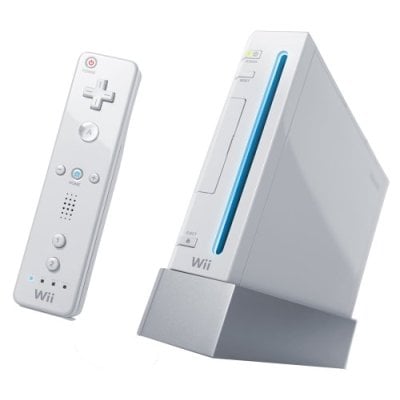 And the Coolest Game Console Ever Award goes to… The Nintendo Wii!
I've never actually used one (arg!!!), but from all the reviews, demos, etc. about it….
This thing is amazing. The controller (dubbed the Wiimote by fans) is motion-sensitive. For example, in the Wii Bowling game, you bowl by holding down the "B" button and you well…bowl. Just like real bowling (which I do by the way). In some games, you just point the Wiimote at the TV. LIke in 3d-shooter games, you'd just point the Wiimote where you want to aim and push one of the buttons.
The Wii is totally spectacular. It's going to revolutionize the game console industry (it plays your old GameCube games too). Nintendo's suggested retail price is $250. That's almost cheep enough for me to want to get one. But, unfortunately, there's a catch. As I write this, most stores (online and off) are either out of stock or charging $550 or more for the Wii.
Oh, and the 5th Harry Potter game (which will be out next summer) will use the Wiimote as a wand. You'll cast spells by waving the controller in the air.
Hopefully it'll come down to around $180 in a year or so. $250 isn't too bad (still rather high though), but $550-$600 is outrageous.